Exploring Mini Excavator Attachments for Enhancing Efficiency and Versatility
Mini excavators are advantageous in many construction jobs; they become more beneficial with different mini excavator attachments. They are also becoming valuable tools in construction and landscaping due to their compact size, maneuverability, and versatility. You can tackle various tasks with them, from digging trenches and excavating foundations to demolishing structures and clearing debris. Different attachments are specifically designed for mini excavators. In this article, we will explore the world of mini excavator attachments, describing their types and functionalities for your construction projects.
Different types of mini excavators attachments
Buckets:
Mini excavator buckets are the most common and essential attachments. These are available in different sizes and configurations; you can use them for excavation, digging, and loading materials projects. You can also find different types of small excavator buckets. Standard buckets are great for general-purpose tasks, while unique options for trenching and grading buckets.
Augers: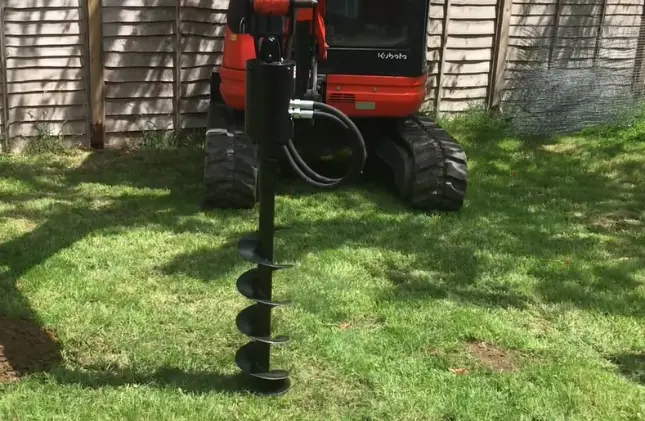 You can also find the different types of mini excavator Augers; It is a necessary attachment when digging holes for fence posts, tree planting, or installing utility poles. These attachments have rotating drill bits that efficiently work in different soil. Auger attachment has different diameters and lengths, so it helps you to accommodate the desired hole size.
Grapples: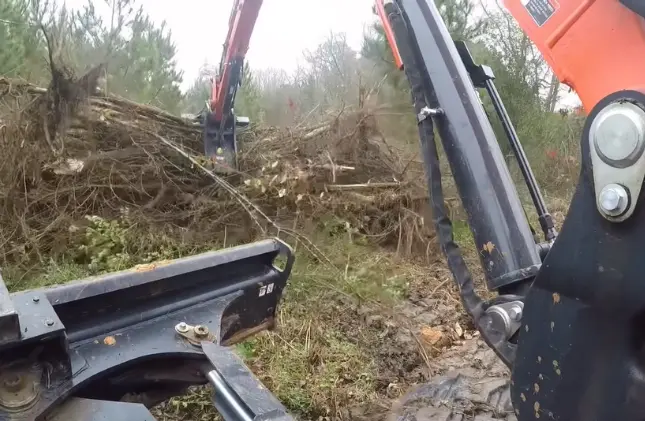 Grapples are excellent mini excavator attachments for handling and moving significant, irregularly shaped things such as rotating grapple rocks, logs, and debris. They have sturdy arms with hydraulic-powered claws, so you can securely grip and transport materials. These are great for landscaping, forestry, and construction projects that involve clearing or sorting.
Breakers: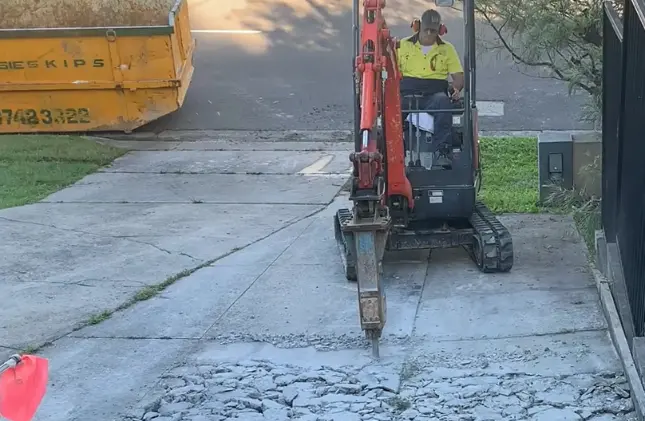 Breakers, also known as hydraulic hammers. You can use these attachments for demolition and rock-breaking tasks. These powerful breakers offer high-impact blows to break apart concrete, asphalt, rocks, and other hard materials. You can use Breakers in road construction, demolition, and quarry operations.
Mulchers: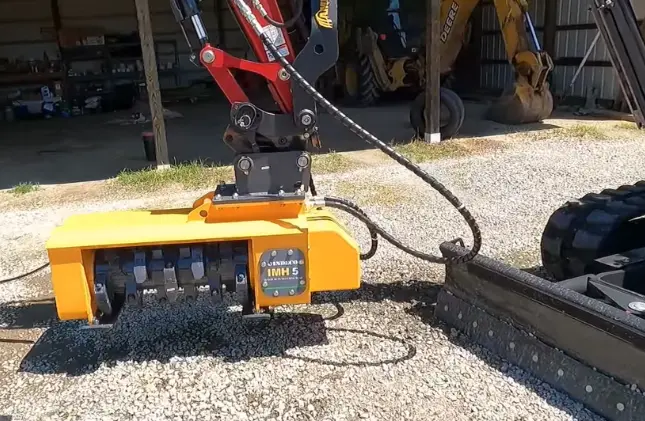 Mini excavator mulcher attachments are used for land clearing and vegetation management projects. The attachment comes with sharp cutting blades that shred trees, bushes, and other vegetation into fine mulch. You can use these Mulchers in forestry, landscaping, and land development projects.
Plate Compactors: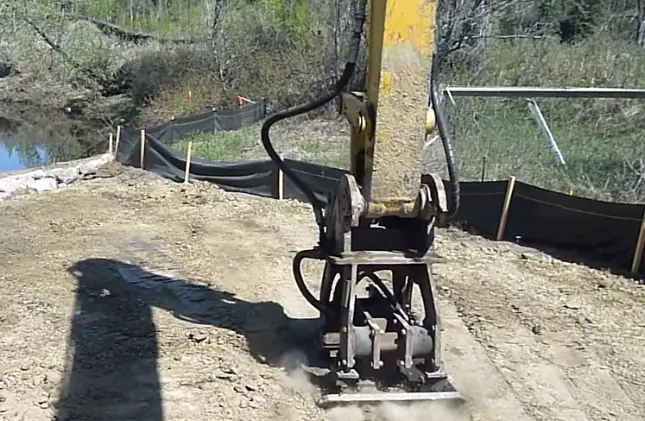 If your job site is compacting soil, gravel, or asphalt, you need plate compactors attachments for mini excavators. These heavy-duty plates use vibrating and compressed materials. It helps you to make a solid and stable surface. These Plate compactors also work in road construction, foundation preparation, and landscaping projects.
Rippers: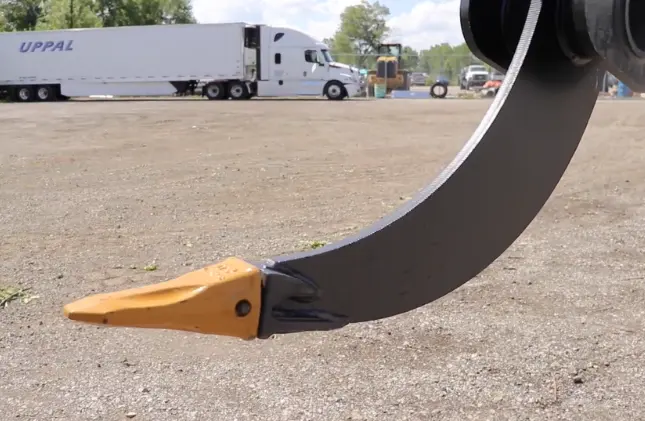 Rippers for mini excavators are attachments you can use to break up hard surfaces, such as compacted soil, asphalt, or frozen ground. They are available in single or multiple pointed teeth, go to the surface, and your mini excavator rips and loosens the material. You can also use Rippers in construction, road maintenance, and land preparation projects.
quick hitch
A quick hitch is an accessory for mini excavator attachment; it makes it easy to attach and detach different tools and attachments. It is an innovative attachment that allows operators to swiftly switch between attachments, saving time and effort on the job site.
Tiltrotators: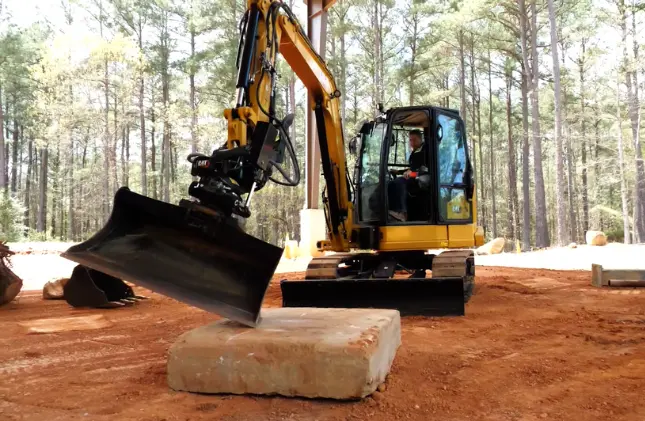 Tiltrotators for mini excavators are advanced attachments. These are a combination of hydraulic tilting and rotating capabilities. They offer exceptional flexibility and precision to the operator to tilt and rotate the attachment in any direction. Tiltrotator attachments are used in applications that need precise positioning and digging at angles. You can also use them for working in tight spaces, such as landscaping, pipe laying, and utility installations.
Vibratory Compactors: 
Vibratory or plate compactors for mini excavators are specially designed for compacting soil, sand, or gravel. You can use these attachments to quickly and efficiently compress loose materials, which makes a solid and stable surface. Plate compactors are used in landscaping, foundation preparation, and trench backfilling.
Hydraulic Thumb: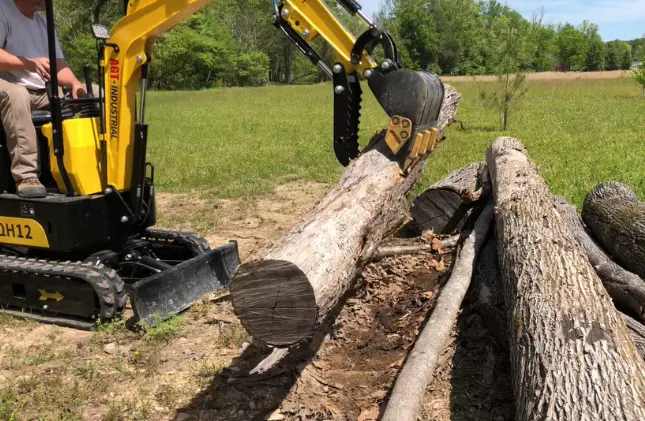 A hydraulic thumb for a mini excavator is a versatile attachment. It enhances the grasping capabilities of a mini excavator. You can adjust various positions with this hydraulic-powered thumb. Furthermore, the operator can firmly grip and handle objects of different sizes and shapes. So these Hydraulic thumbs are handy for material handling, debris removal, and site cleanup.
Trenchers: 
Trenchers mini excavator attachments are excellent for digging trenches of different depths and widths. They have a rotating chain with digging teeth that efficiently cuts through the soil to create precise trenches for utilities, irrigation systems, or drainage. You can also use Trenchers in construction, landscaping, and utility installation projects.
Hydraulic Shears: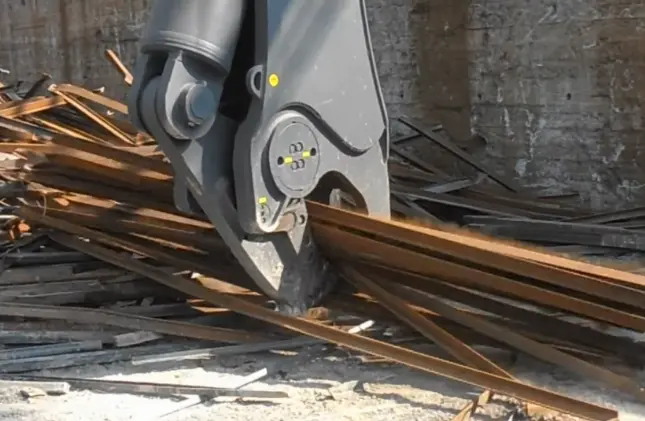 Hydraulic shears are powerful attachments for cutting and demolishing steel, concrete, and other hard materials. They have sharp blades and powerful hydraulic jaws with superior cutting force and precision. Hydraulic shears are also used in demolition, scrap recycling, and renovation projects.
Mini Pulverizers: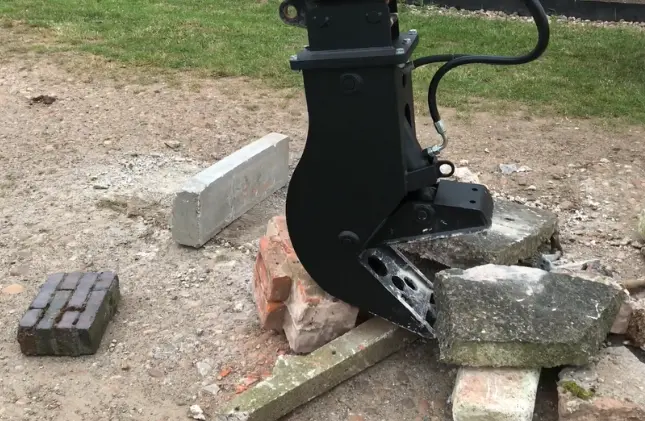 Mini pulverizer attachments are best for demolishing concrete structures. These attachments come with powerful hydraulic jaws and sharp teeth; they can crush concrete into smaller pieces. So it is easier to remove and recycle. Mini pulverizers for small excavators are used in demolition projects, concrete recycling centers, and bridge reconstruction.
Tree Shears: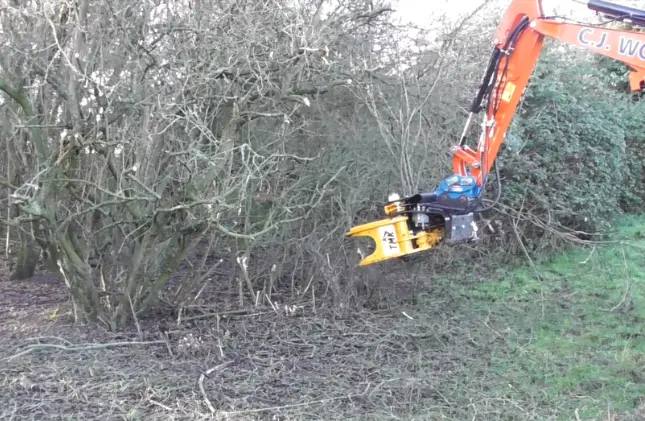 Tree shears are attachments efficient for tree removal and forestry work. It has solid blades and hydraulic-powered jaws that can quickly and cleanly cut through trees of different sizes. Tree shears are used in forestry, land clearing, and tree removal projects.
Tilt Buckets: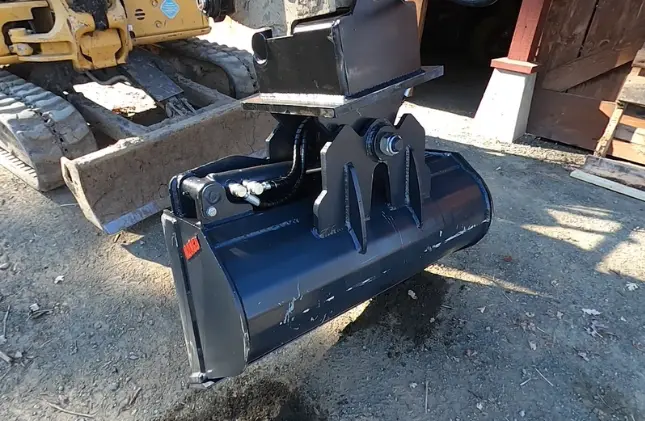 Tilt buckets attachments for compact excavators offer hydraulic tilting capabilities. The operators can adjust the bucket angle according to their job. This quality provides greater control for grading, shaping slopes, and working on uneven terrains—these tilt buckets landscaping, road construction, and drainage projects.
Snow Blowers: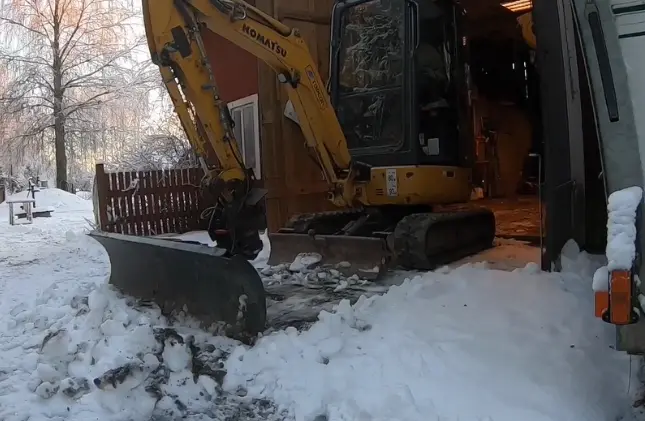 For areas with heavy snowfall, mini excavator snow blowers are essential and very helpful attachments. These snow blowers with rotating augers and powerful blowers remove snow from roads, parking lots, and sidewalks. Snow blowers are great for quick snow clearance and improved accessibility during winter months.
Conclusion:
Mini excavator attachments enhance the abilities and versatility of compact excavators. They can tackle many tasks efficiently, whether you need to dig, lift, demolish, precise, or grade. With time, these attachments continue to be developed, expanding the possibilities of what mini excavators can accomplish in the construction industry.