Mini Excavator Forks Attachments Guides for 2023
Mini excavator forks attachments you can use for different purposes. They are designed to help the excavator move and transport materials such as pallets, boxes, bags, and other objects that require lifting and carrying.
This Mini excavator attachment consists of two long, sturdy arms with sharp, pointed tips inserted into the ground to provide stability. Two prongs can be positioned at the other end of the arms to grip and lift objects. The prongs are usually adjustable and can be moved closer together or further apart to accommodate different sizes and shapes of objects.
Using mini excavator forks is a simple process. The forks are attached to the excavator like other attachments, such as buckets or blades. Once connected, the operator can use the excavator's hydraulic system to move the forks and adjust the position of the prongs as needed.
Grapple mini excavator forks have hydraulic jaws that can be opened and closed to grip and hold objects tightly. They are ideal for picking up and moving irregularly shaped things like logs, rocks, and debris. Grapple forks can be used in construction, landscaping, and forestry work.
Different types of mini excavator forks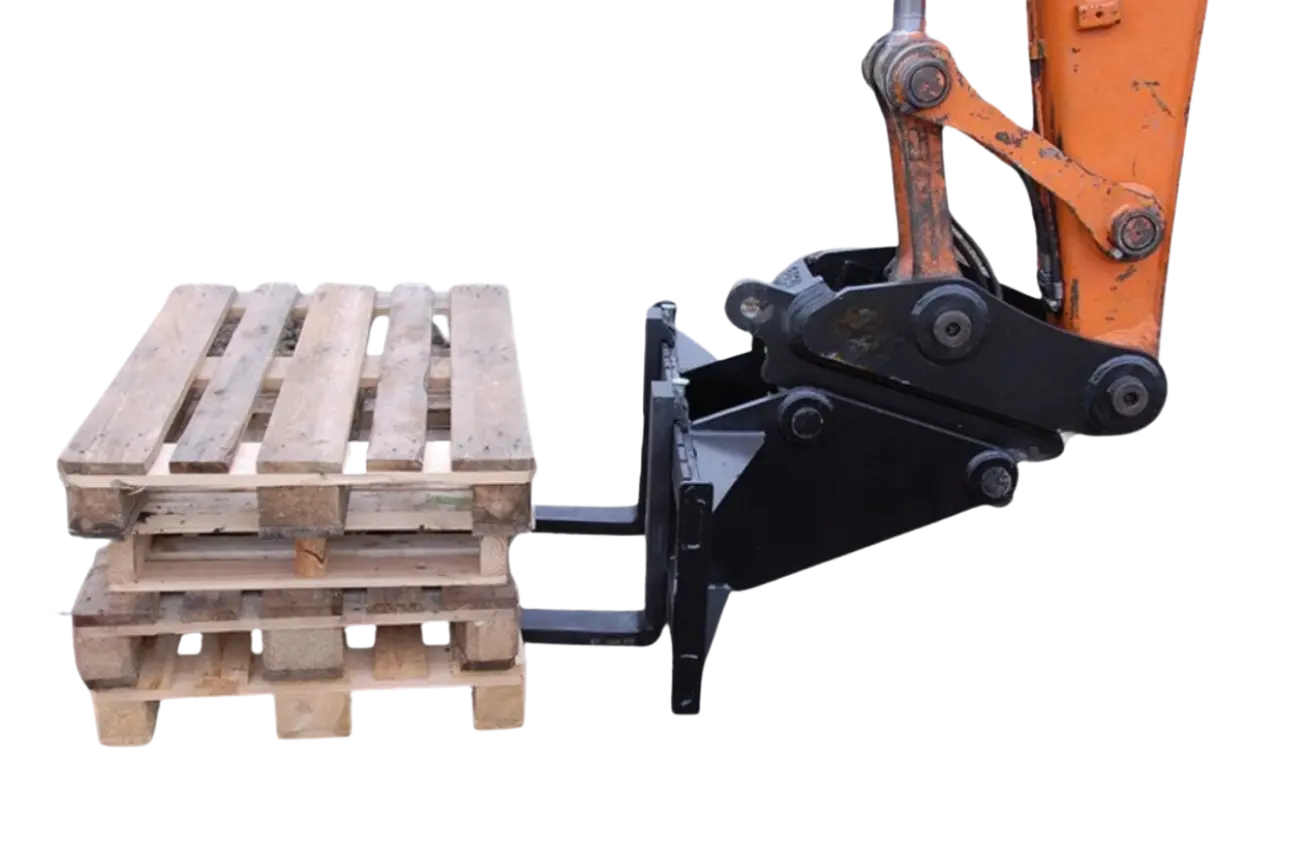 Standard Mini Excavator Forks
The most common type of mini excavator fork is the standard fork. They consist of two long arms with prongs at the end and are usually adjustable to accommodate different object sizes. Standard forks are ideal for lifting and transporting pallets, boxes, bags, and other items.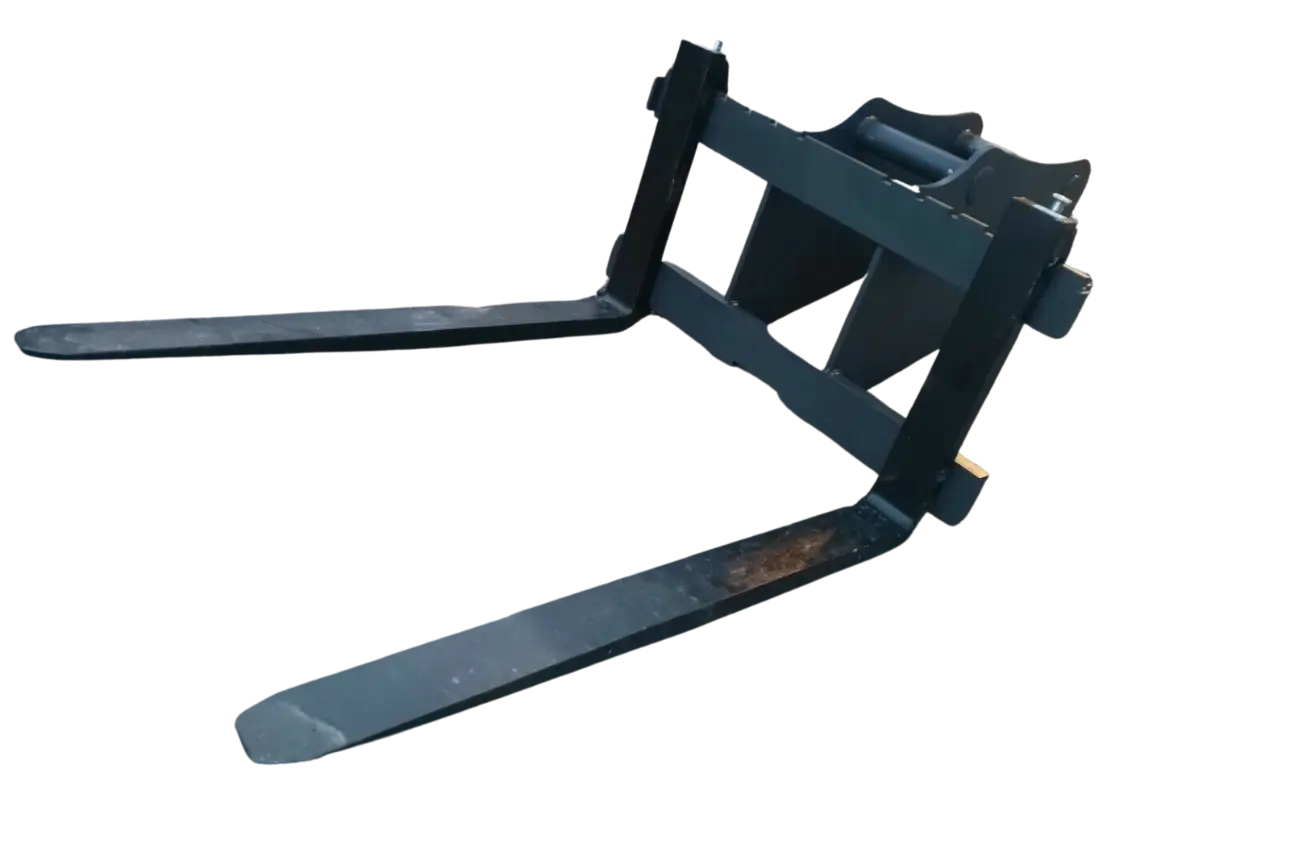 Heavy-Duty Mini Excavator Forks up to 20 tons
Heavy-duty forks are designed for lifting heavier loads up to 20 tons. They are thicker and stronger steel and can support more weight than standard forks. Heavy-duty forks are often used in construction, manufacturing, and agriculture, where large and heavy objects must be moved regularly.
Side Shift Mini Excavator Forks
Side shift forks are similar to standard forks but have an additional hydraulic mechanism that allows the prongs to be shifted from side to side. This makes it easier to pick up objects that are not aligned with the excavator and reduces the need for repositioning the entire machine.
Pallet forks mini excavators are designed specifically for moving pallets. They have longer and thinner prongs than standard forks, which can fit into the narrow openings of pallets. This Pallet fork is fit to be used in warehouses, distribution centers, and shipping yards.
Mini Excavator Pallet Forks
| Features | Details |
| --- | --- |
| Condition | brand-new |
| Panel Package Dimensions | 78* 61* 25 cm |
| Material | Full steel construction |
| Gross Weight | 20kg |
| Linkage | 3-point attachment |
| Forkprongs Package Dimensions | 100* 21* 14 cm (39.4″* 8.3″* 5.5″) |
| Load Capacity | 1000kg |
| Made in | Chaina |
Uses of mini excavator forks
Lifting and transporting materials:
The primary use of mini excavator forks is for lifting and transporting materials. They can move items such as pallets, boxes, bags, and other objects that require lifting and carrying. Mini excavator forks are particularly useful in construction and landscaping projects where materials must be moved frequently.
Loading and unloading materials:
Mini excavator forks can also be used for loading and unloading materials onto trucks or other vehicles. This is especially useful in warehouses and distribution centers where goods must be loaded onto delivery trucks.
Clearing debris:
Mini excavator forks equipped with grapple jaws can clear debris such as rocks, logs, and branches from construction sites or wooded areas. They can also remove fallen trees or other obstacles hindering construction equipment.
Snow and ice removal:
Mini excavator forks with snow plow blades are ideal for clearing snow and ice from roads, driveways, and parking lots. They can quickly and efficiently remove snow and ice, making it safer for vehicles to travel in inclement weather.
Landscaping:
Mini excavator forks are useful for landscaping tasks such as digging, leveling, and moving soil, gravel, and mulch. They can also plant trees and shrubs and remove old landscaping features such as bushes or rocks.
Agriculture:
Mini excavator forks can move hay bales, feed, and other materials around a farm. They are also useful for digging and grading fields and maintaining drainage systems.
How to Choose Mini Excavator Forks
Choosing the right mini excavator forks is important to ensure you can efficiently and effectively carry out your tasks.
Weight capacity: The weight capacity of the forks should match or exceed the weight of the materials you plan to move. Consider the materials' importance when fully loaded onto the forks.
Prong length and thickness: The length and thickness of the prongs should be suitable for the materials you need to lift. Longer prongs are better for larger objects, while shorter prongs are better for smaller ones. Thicker prongs can handle heavier loads, but thinner prongs are better for picking up items with small openings.
Additional features: Consider any other features that may be helpful for your specific tasks. For example, hydraulic grapple jaws can help pick up irregularly shaped objects, while a snow plow blade can be useful for snow removal.
Compatibility with your mini excavator: Ensure the forks are compatible with your excavator's weight capacity and attachment system. Check the specifications of both the forks and the excavator before purchasing.
Quality and durability: Look for forks made from high-quality materials that withstand wear and tear. A sturdy and durable set of forks can save you money in the long run by reducing the need for repairs or replacements.
The bottom line
Excavator pallet forks for sale are a valuable attachment for excavators that can increase their versatility and efficiency. Overall, mini excavator forks are a useful addition to any excavator and can help save time and increase productivity in various industries, such as construction, landscaping, and agriculture.